Loyalty.com
Customer Relationship Management in the New Era of Internet Marketing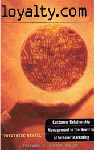 By Frederick Newell

Published by McGraw-Hill, 2000
Hardback, 346 pages
ISBN: 0-07-135775-0
Building customer loyalty has become more important than ever for companies as expectations have grown along with technology and online developments. The use of discounts, coupons and reward schemes are now as good as redundant because customers want a more valuable and meaningful experience from retailers and other service companies, giving them what they want in a manner that makes them feel individual.
Frederick Newell is a recognised authority on implementing successful Customer Relationship Management (CRM) programmes. In this book he describes the strategies and techniques that are now available in the online age and how they can be used to maximum effect. He outlines how the capabilities of web trading can be used to learn from and understand customers and then use that information to deliver what the customer wants, when they want it. And he explains how the new technology can make the process easier to manage to achieve the ideal one-to-one relationship with the customer.
Divided into 4 parts, Newell explains the principles behind implementing a successful CRM strategy and then describes the tools available, including the web, e-mail, telemarketing and digital printing. The third section examines how CRM techniques are being used across different business sectors and despite being heavily biased towards US case-studies, itís good to see a chapter on the Boots Advantage Card included here. The final section sums up the issues covered in the preceding chapters and lays out the ground rules for creating loyal customers.
There are plenty of case studies included and although itís not the easiest book to read, the useful ĎQuick Tipí summaries after each section form a valuable checklist and reminder of the main issues. Loyalty.com is an important book for anyone developing a CRM programme - particularly as part of an online business - and it will help to create the strategic thinking required to succeed where many have failed.