Strategic Management of e-Business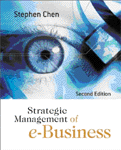 By Stephen Chen

Published by Wiley, 2004
Paperback, 384 pages
ISBN: 0-470-87073-7

This significantly revised second edition of Strategic Management of e-Business focuses on the strategic implications of e-Business and examines the e-business strategies being employed by firms in a range of different industry sectors.

Since the publication of the first edition, significant developments have taken place in both technology and the markets for e-business, such as the dot.com crash and more widespread use of the mobile internet. This new edition contains updated and new case studies, as well as recognizing the developments in the field.

Written for students undertaking a MBA, final year undergraduate students and executive education courses, this book will also be a valuable source for consultants and practitioners who need to gain a greater understanding of the strategic issues underpinning e-Business.