Small Business Web Sites Made Easy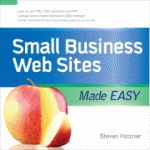 By Steven Holzner

Published by McGraw-Hill Osborne Media, 2009
Paperback, 272 pages
ISBN: 0-0716-14818
This book, as outlined in the title, is clearly aimed at the small business owner who wants to set up or develop a web presence and to understand the issues behind web design and marketing. It claims to allow readers to establish a solid online presence without the expense of hiring a designer, and to some extent it does provide some valuable content and guidelines for those starting from scratch.
It is a visual, easy to follow guide that covers basic HTML, CSS, JavaScript and PHP web design issues, although at a very introductory level. It also covers the tools that small business owners may need to create a compelling website that's functional, flexible, secure and ready for online transactions. It also covers the fundamentals of some of the core web marketing techniques, such as search engine optimisation, pay-per-click advertising and marketing on Facebook.
The range of issues covered include
basic HTML formatting
developing a site architecture
adding style to the website using CSS (Cascading Style Sheets)
tracking site metrics with online meters
making pages come alive with JavaScript elements
increasing traffic and conversions using SEO techniques and PPC advertising with Google AdWords
marketing a website using Facebook
creating a shopping cart and enabling credit card transactions
The book has its uses and covers the basics well, but for many small business owners it probably doesn't do enough to really make a difference and either more in-depth books may be required for some of the core design or marketing issues, or professional help will be necessary. In the latter event, this book will give small business owners the background knowledge to understand what's being discussed or proposed, so that they can respond appropriately.
The author clearly has a design background, rather than marketing, as some of the SEO and PPC advice is dated or uncertain. From the design perspective it leaves you with the feeling that it's a good start but not enough to provide the knowledge and confidence to develop a really effective website. However, as an introduction to the issues, this is a good place to start, presented in an easy to follow manner.
Buy this book at a discount from Amazon.com
or from Fishpond